K.A.G. SCREAMER
NOW THIS IMAGE IS FREE FOR DOWNLOAD HOWEVER IF YOU'D LIKE A STICKER ALREADY PRINTED I DO TAKE DONATIONS. NOW SAY IF YOU HAPPEN TO "DONATE" $5 YOU MIGHT JUST FIND A STICKER IN THE MAIL. $9 FOR TWO STICKERS AND $12 FOR THREE.
IT'S SO SAD I KNOW OF ONLY ONE SKATER THAT ISN'T A BIG GOVERNMENT LOVING COMMIE.
WHAT HAPPENED TO PUNK? WHAT HAPPENED TO THE INDIVIDUAL, TO SAYING, "FUCK THE MAN!" THESE DAYS KIDS HAVE BEEN PROGRAMMED BY TEACHERS TO HATE THEIR COUNTRY, FEW HAVE FATHERS IN THE HOUSE, THEY ARE DOPED UP BY NOT ONLY THEIR LOCAL DEALER BUT THE PHARMACEUTICAL INDUSTRY, THEIR MOTHERS ARE MARRIED TO THE GOVERNMENT, AND THAT GOVERNMENT IS NOW THEIR GOD.
AND WHAT HAS THE SKATE BOARD INDUSTRY DONE ABOUT IT? FELL RIGHT IN LINE WHERE THEY THOUGHT THE POT WAS SWEETEST. THEY ARE NOW COMPANIES PACKED WITH MORE SUITS / LAWYERS LOOKING TO SHAKE DOWN ANYONE WHO DARES STRAY FROM LEFTIST DOCTRINE.
WHAT HAPPENED TO SKATE?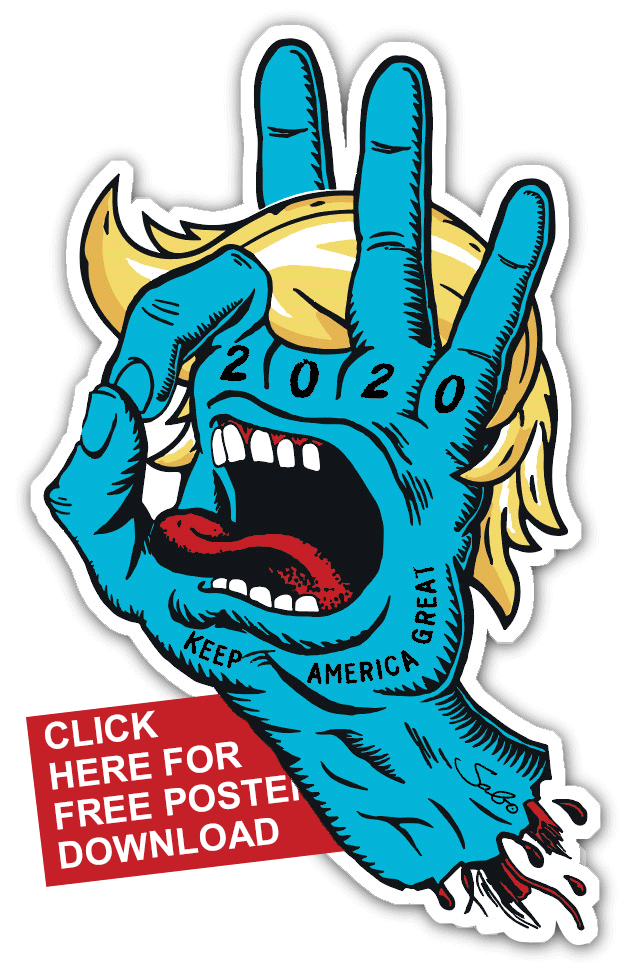 SANTA CRUZ CALIFORNIA! I BET A BRICK OR TWO WAS SHIT THAT WEEKEND UP NORTH.
BY THE TIME I'M DONE THERE'LL BE ENOUGH BRICKS TO BUILD THE WALL!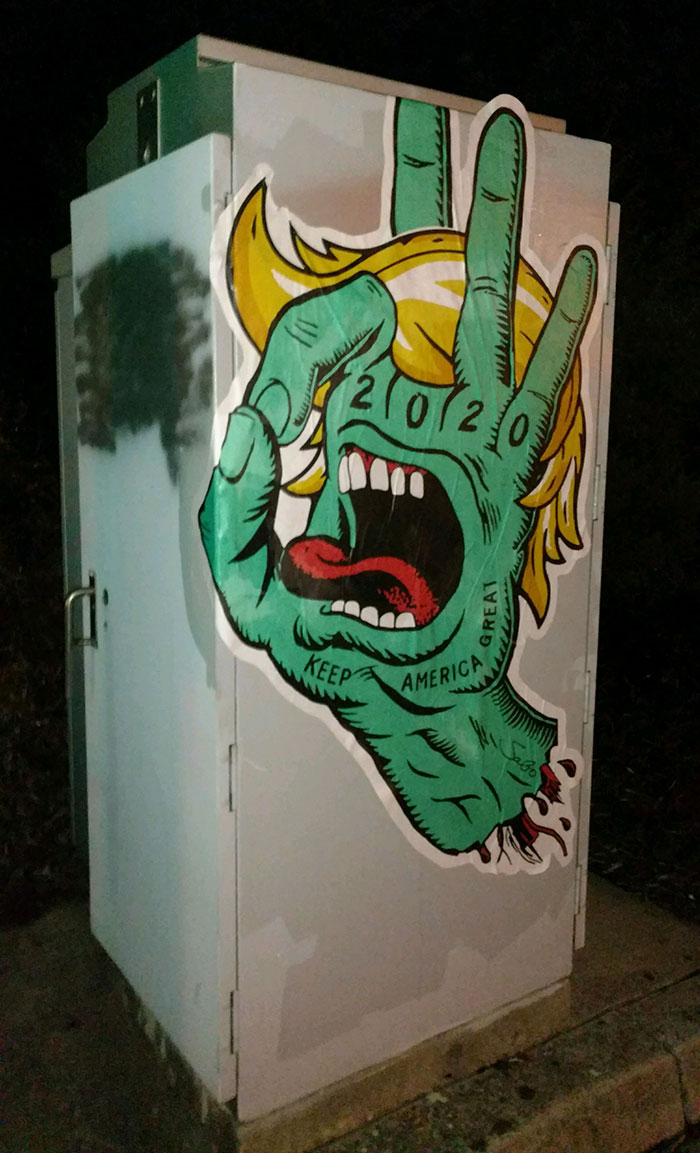 THESE POSTERS CAME DOWN SO FAST YOU COULD HEAR A SONIC BOMB AS THEY WORKED THEIR HAPPY LITTLE MILLENNIAL FINGERS OFF TO RIP THEM DOWN. SO MUCH FOR 'ALL ART SHOULD BE RESPECTED, LOVED AND TREASURED.'