CULT of PERSONALITY
Not since Hilter has a politician so successfully used a logo or icon to represent his movement, so I replaced the swastika with Obama's "O" rising sun logo. HEIL OBAMA!!!
I was at this Conservative rally one day where I had these flags laying out when this little jewish hipster walks up to me and says something like, "You can't compare Obama to Hilter." He continued by telling me that his grandfather had escaped the concentration camps during WWII and that this was a touchy subject to him.
My first thought was, "Piss off!" but I managed to contain myself enough to engage him. I told him this,'The problem with placing Hitler on some "ultimate evil pedestal" is a dangerous thing to do because in doing so you've created the impression that such an evil could never be reached by any other politician again. So far Obama's actions in office have made Nixon look like a Girl Scout. The guys has pretty much armed every government agency to the teeth and one has to question why. People's biggest failure with Hitler was refusing to believe he would do what he eventually did. The Jews have a saying, "Never Forget", when you fail to believe that it is impossible for there to ever be another tyrant like him you have then forgotten and in doing so make it that much more possible for the next Hitler to sneak back into power.'
He then said,"But Obama hasn't killed 6 million Jews or anyone for that matter! Out of respect for my grandfather you shouldn't have created these flags," to which I responded, "he hasn't killed 6 million jews yet and I'm not trying to disrespect your grandfather. What I'm trying to do is prevent his grandson from having to escape from his own death camps by having these flags remind people that evil did and does exist. These are ugly flags, they are rude and offensive, they are meant to make you feel uncomfortable. They are intended to remind you the the hearts of some men are evil."
He looked at me puzzled obviously not getting it and he walked away frustrated. That Jew forgot.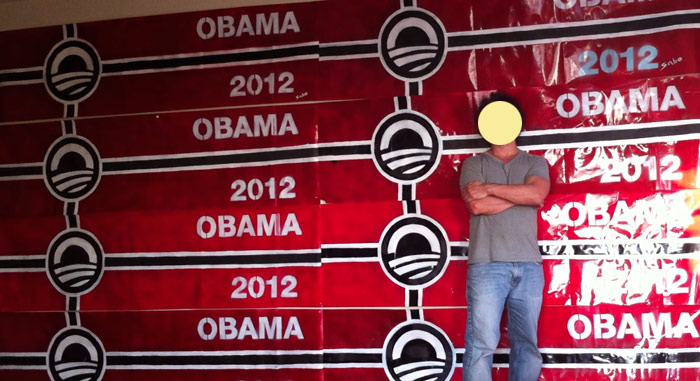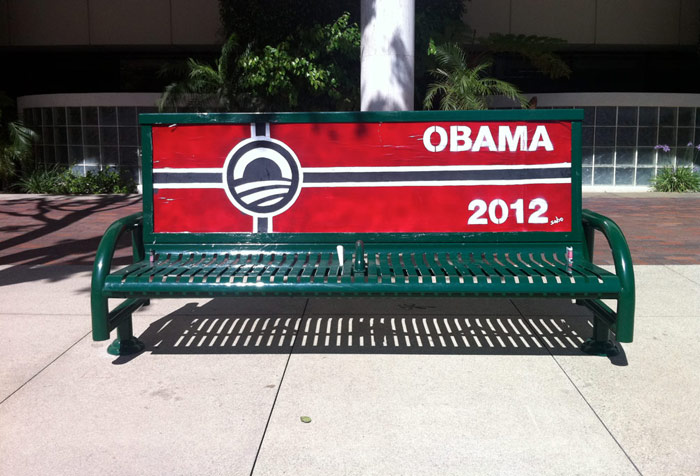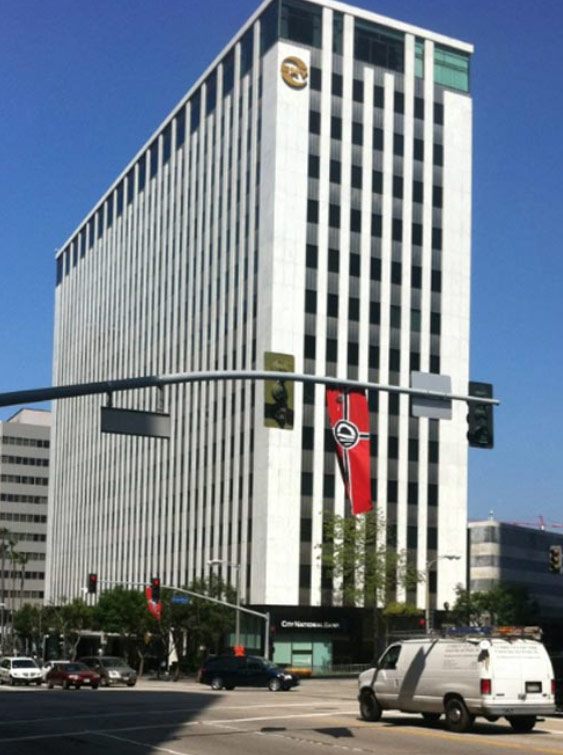 These flags have taken a number of forms from hand painted bus bench ads to 9 foot hand sewn banner flags. The flags were created in hopes of finding a gallery with the balls to hang this instillation. The Savage Gallery in Palm Springs stepped up and finally did. I had to drive clear into the desert to make it happen but … it happened. They are titled Audit 1 to Audit 6.