ABORTION BARBIE
Related News Stories:
- Huffington Post
- Time.com
ABORTION BARBIE POSTERS AVAILABLE AT A $30 DONATION.
These posters are the actual design that greeted Wendy Davis on the streets of Los Angeles during her fund raiser with JJ Abrams, Spielberg, and that other stupid director whatever his name is. These posters are made from 12, 11x17 color prints taped together. They are rough looking but as so many have seen they were highly effective in putting abortion back on the table in Texas politics.
This poster is a perfect example of how organic my approach is. There I was minding my own business when I got this email informing me that Wendy Davis was coming to town for a fund raiser. My initial idea was of this huge pair of scissors coming down on a black fetus that I was going to cut from this 2001 looking monolith piece of foam core I have sitting in my living room. The plan was to hang it from a power line. So I jumped on Facebook where I vaguely propose my idea and requested some funds from my friends for the production. Not ten minutes later a fan stepped up and I mean big. I was in shock, the party was on. However as time progressed the idea changed into the Barbie poster you see here. The patron couldn't have known what the end result was because I myself didn't know. In the end it read very nicely on the street.
My opinion on abortion is this, a woman should have the right to do with her body as she wishes. It's not the governments, the churches, or my place to tell her otherwise … however, at a certain point in the pregnancy it's no longer just about her. At a certain point she is housing the body and soul of another human being. I don't see this as a Cuban style "Wet Foot, Dry Foot" policy only in this case an "Inside the Vagina, Outside the Vagina" policy. Not to mention when a society starts to view abortions as just another procedure then that society is doomed to crumble under the weight of it's own rot anyways.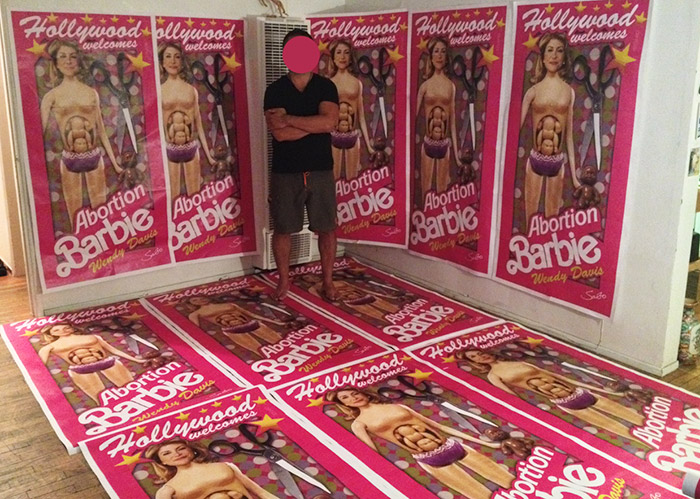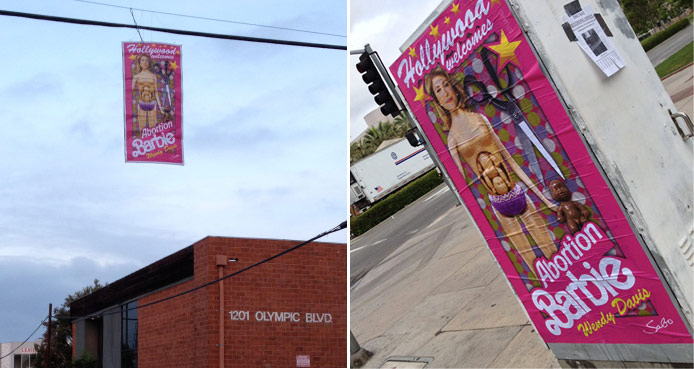 A WORD FROM MY FANS AT THE YOUNG TURKS WHO SUCK!!!
I love how this jackass has to ask the only black man in the room what he thinks of the black baby doll.