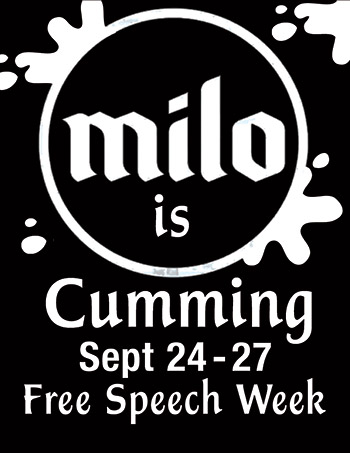 I THOUGHT I WAS THE FASTEST CENSORED STREET ARTIST IN LOS ANGELES. NOTHING COMES CLOSE TO HOW QUICKLY THE HIPPIES IN BERKELEY CENSOR MY SHIT. I SWEAR IF I'M NOT OUT TAKING PHARMACY PHOTOS AS THE SUN IS COMING UP I MIGHT AS WELL FORGET ANY FORM OF DOCUMENTATION THAT IT EVER EXISTED IN THE FIRST PLACE. EVEN MY HANGERS ARE DOWN IN HOURS, WHICH IS UNHEARD OF!!!
BY CLICKING ON THE IMAGE OF THE POSTER YOU CAN DOWNLOAD IT FOR FREE. THE DOWNLOAD IS THE ACTUAL SIZE YOU SEE THE RETARD IN THE ABOVE VIDEO HOLDING.
I'LL BE SPEAKING AT MILO'S "FREE SPEECH WEEK" ON THE DAY OF THE 25th. I HOPE TO SEE YOU THERE!